The Theta Tau Educational Foundation awards scholarships to deserving student members from eight endowed scholarship funds. 15 scholarships were awarded in the 2018-2019 cycle totaling $10,300. 
The George P. Kalv, Gamma Beta '47 Scholarship Fund

The Simon Ramo, Lambda '33 Scholarship Fund

The Robert L. Miller, Omicron '41 Scholarship Fund

The William S. Johnson, Rho '42 Scholarship Fund

The Jeremy Chan, Tau Gamma '08 Scholarship Fund

The JB Ladd, Zeta '49 Scholarship Fund

Iota Beta Permanent Scholarship Fund

Beta Chapter Fund

Epsilon Beta Chapter Fund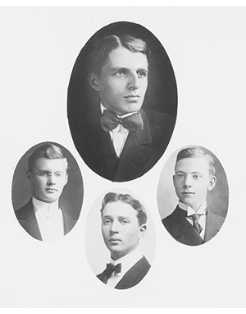 The Theta Tau Educational Foundation Scholarship Program has been established and regularly awards scholarships to student members of Theta Tau to enable them to continue their engineering education. The recipients are selected on the basis of their academic achievements, their participation in campus and community activities, and/or on financial need. Theta Tau's goals of assisting our Brothers and recognizing and fostering high academic achievement among members is strengthened through this program. Alumni have endowed a number of named, permanent funds in their honor. 
---